Modulo Kinetic
Modulo Kinetic is the ultimate media and show management platform.


It offers the most advanced tools required for the most prestigious projects, and brings them into one logical and fully integrated ecosystem. Modulo Kinetic provides flexibility, productivity and performance through each stage of your project, from design to playback.

Download product overview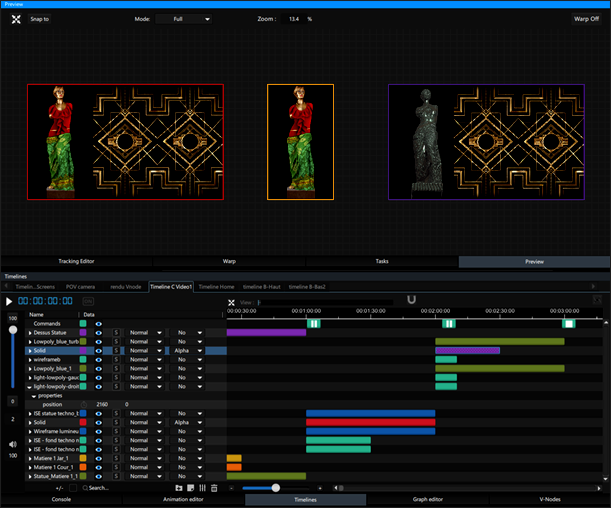 Advanced workflow
Kinetic Designer is the central point of Modulo Kinetic's workflow, offering features for the design, simulation and production of any type of project.
Also available offline, Kinetic Designer is the perfect tool for artists, designers, project managers and technicians. It provides the right tools for every single task and centralizes them all within one workflow.
Connect Kinetic Designer to one or multiple Kinetic VNode servers and control the entire setup for seamless playback.
Secured workflow thanks to the easy-to-use automatic master/slave back-up.
Smart user interface
Modulo Kinetic's user interface has been designed to make sure users focus on what's important.
Users can design their own interface layout based on their favorite features, or simply recall existing layout presets.
Our 2D compositing tool is inspired by existing video editing solutions, making it easy and fast to learn.
Our 3D workflow is similar to what can be found in a 3D modeling software.
Adapt the luminosity of your system to your working environment with the several available themes.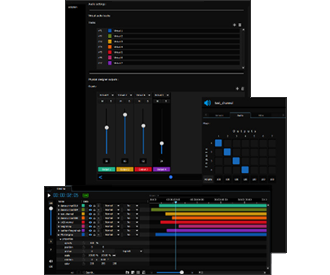 Optimized media processing
Modulo Kinetic has been designed to seamlessly process media and provide the best possible quality while reducing the necessary hardware configuration. All supported media are always played smoothly and are synchronized on all the servers.
Modulo Kinetic handles H.264 sequences and MPEG2 files up to 4K. It also plays HAP files to allow the processing of very high-resolution media with low CPU usage.
Modulo Kinetic is one of the few Media Servers certified to play Apple ProRes format for maximum quality, improving the workflow with the production tools used by the creative studios.
Play uncompressed TGA and 10-bit DPX sequences for ultimate visual quality.(optional)
Modulo Kinetic also processes multichannel audio with professional sound cards and ASIO format. Each channel is independent and can be routed to one or several outputs.

Powerful 2D real time compositing
Offers unlimited independent timelines, each one with unlimited layers.
Drag and drop media, add effects, create complex cues and animate each setting with key frames.
Add control cue, trigger tasks, control devices directly to the timelines.
Create as many Render Surfaces as needed to visualize your composited media. Render Surfaces can be used to map a 3D object or to project content from a virtual projector in a 3D environment.
Drag & drop cameras/projectors from the 3D scene in your timeline.
As an option timelines can be synchronized on MTC or LTC timecode.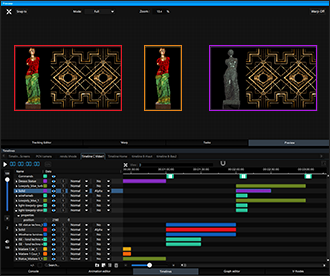 State of the art 3D engine for show design and visualization
Import complete scenes, meshes or points of cloud files, create 3D objects.
Import video game engine quality textures from Allegorithmic's Substance Designer and Painter, map them on 3D objects and scenes, interact with their settings in real time and make your simulations even more realistic.
Add projectors out of Kinetic's internal database, configure them with their actual settings (lens, throw ratio…) and design your entire projection from any point of view and with various settings such as pixel density or heat.
Seamlessly add 3D scenes and effects to Kinetic's Timeline.
Add 3D lights (point light, spotlight, directional light) and interact with them using the nodal programming module.
Enhance the simulation of your entire scene using a VR HTC LIVE and visualize every part of it from any angle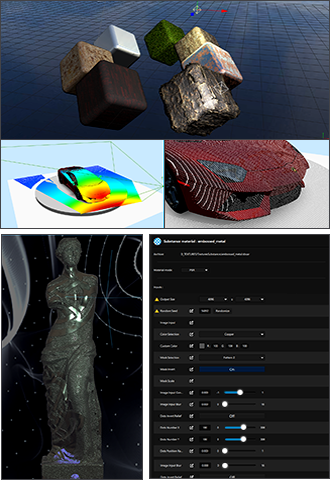 Powerful output warp tools
Warp your outputs with the keystone or curve feature which come with many tools to make the process fast and easy.
Our unique XMAP feature makes content mapping on complex shapes cost effective and accessible. It avoids the use of expensive 3D workflow : import a Photoshop file, extract each of its layers and warp them independently.
Easily playback video content as DMX to control LED stripe and lighting fixtures. Modulo Kinetic's offers a video to Art-Net converter which uses the GPU to deliver pixel accurate DMX over Ethernet in real time.
Auto calibrate your projectors with 2D-3D connection points.
A multi-user warp remote which can run on a simple laptop is available for the 2D warping or 3D calibration process. Several operators can work together simultaneously to speed up the calibration process.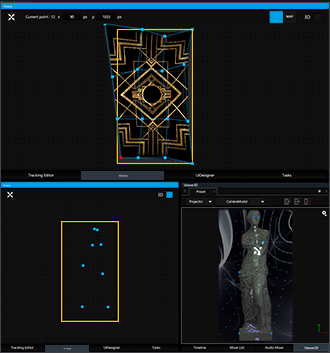 Easy show control
Modulo Kinetic offers a simple, yet powerful show control feature.
Create and control automated tasks for a large number of devices such as projectors, matrix switchers, video processors etc…
Use other devices as triggers by interfacing them with Modulo Kinetic.
Create your own user panel and use it on a Mac, PC, IOS or Android device.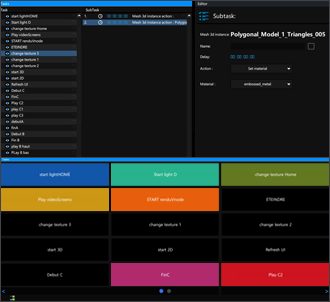 Easy-to-use nodal panel for advanced interactivity
Drag & drop settings from the timeline and/or 3D engine into the Nodal Editor to control them in real-time.
Drag & drop Devices to receive or send data from the nodal panel.
Track the position of a moving object and control your 2D compositions or 3D scenes from the nodal panel.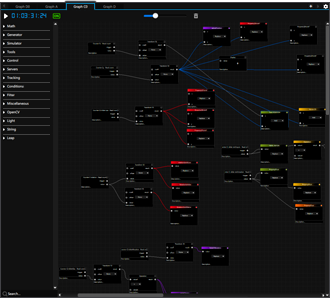 Live input boards
Add up to 8 (SD/HD/3G) SDI and/or up to 4 (1.4 or 2.0) HDMI inputs to your system thanks to the optional low latency input boards available for certain configurations.
Modulo Kinetic supports NewTek's NDI technology which allows you to stream multiple high quality live video sources across an Ethernet network and use them as inputs.
Visualize all your live sources on a custom designed monitoring output and/or streamed over NDI.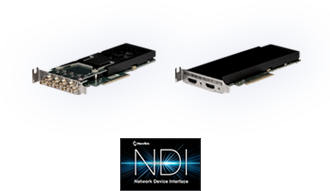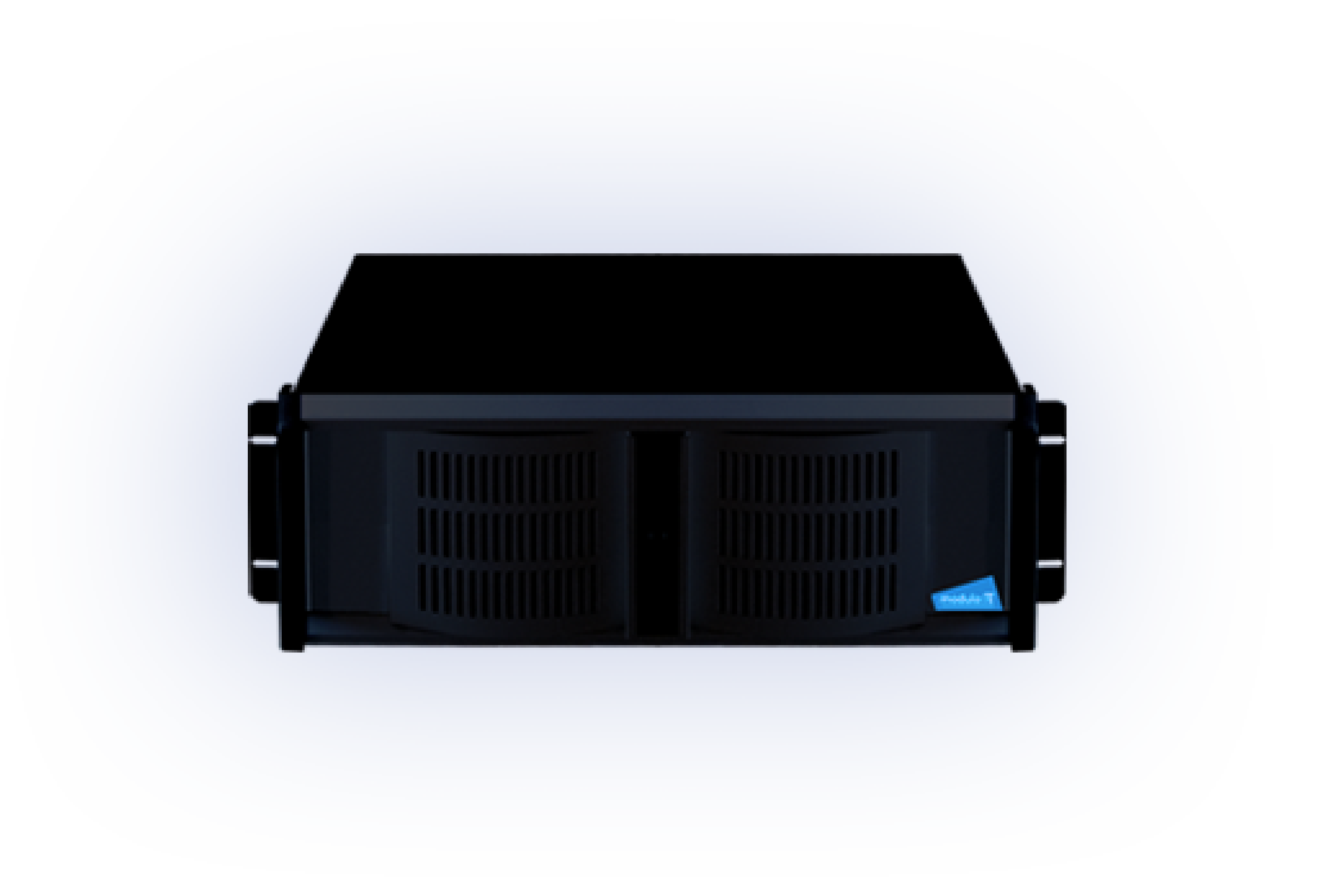 Versions
To meet the needs of our clients, Modulo Kinetic is available in different hardware configurations which can all be customized: add a timecode card, a live capture card, additional storage capacity etc…
Controller
The controller is entirely dedicated to the Kinetic Designer Interface. This powerful configuration allows you to control, simulate in 3D and pre-visualize your show. Connect up to 4 monitors to display the user interface.
VNode
Modulo Kinetic VNode combines a powerful configuration with additional storage capacity. It is perfect for corporate or live events. As an option, you can add up to 3 dual inputs low latency capture cards.
Descriptions
| | | | |
| --- | --- | --- | --- |
| Reference | Outputs | SSD | Optional Capture Card |
| Kinetic Controller | | | |
| KI -CON | | 120 GB + 2 x 1 TB | – |
| VNode | | | |
| KI-PRO-1 | 1 | 120 GB + 2 x 1 TB | |
| KI-PRO-2 | 2 | 120 GB + 2 x 1 TB | |
| KI-PRO-4 | 4 | 120 GB + 2 x 1 TB | |
| KI-PRO-6 | 6 | 120 GB + 2 x 1 TB | |
Options
| | | | |
| --- | --- | --- | --- |
| Reference | | | |
| SDI-3G-2 | | SD/HD/3G SDI live input card – 2 inputs | |
| SDI-3G-4 | | SD/HD/3G SDI live input card – 4 inputs | |
| SDI-3G-8 | | SD/HD/3G SDI live input card – 8 inputs | |
| HDMI-14-2 | | HDMI 1.4 live input card – 2 inputs | |
| HDMI-20-2 | | HDMI 2.0 live input card – 2 inputs | |
| AD-GEN | | Genlock card | |
| TC-PCIE-R | | Time code reader card – Pcie | |