Paris, November 2020 – Modulo Pi is pleased to announce the addition of new Extended Reality (XR) capabilities to Modulo Kinetic, the fully integrated media server solution. Designed with the needs of Pro AV players in mind, the new version of Modulo Kinetic upgraded with XR features will make production of virtual and hybrid events significantly simplified and accessible.
Designing the next generation of media server solutions, Modulo Pi is pleased to announce the coming release of a new version of Modulo Kinetic upgraded with Extended Reality (XR) capabilities.
Modulo Kinetic is a comprehensive media server solution successfully deployed in large immersive installations such as the Atelier des Lumières in France, also used on corporate events, and live performances like the Gold Coast Commonwealth Games in Australia.
In the last months, Modulo Pi has developed new XR features in Modulo Kinetic to address the need for virtual and hybrid events in the context of the Covid-19 crisis and physical distancing guidelines. The new capabilities include an enhanced chroma keyer, improved embedded 3D engine, as well as the support of camera tracking for the Panasonic AW-UE150, Stype, and Vive systems.
Based on these new capabilities, Pro AV players will be able to produce virtual events featuring background replacement, extended reality, augmented reality, and scenic extension.
These technologies help enrich the elements usually met in physical events with immersive 3D environments, 3D objects, animations, and the ability to switch scenes, contents, and cameras in an instant.
Virtual events produced with Modulo Kinetic are compatible with LED screen configurations, but also with green screen setups to adapt to projects on a budget.
Unlike other solutions available on the market, the Modulo Kinetic platform embeds all necessary tools to produce real-time virtual sets: Previsualization tools for real-time 3D study, simulation and VR, a 3D environment and user-friendly 3D engine for real-time generative content, an improved chroma keyer, powerful 2D real-time compositing tools, a timeline sequencer, as well as a nodal editor to easily add interactivity in a show.
In addition, Modulo Kinetic includes a low-latency live mixer for real-time production, and a UI Designer to create custom control panels compatible with PC, Mac, iOS and Android devices.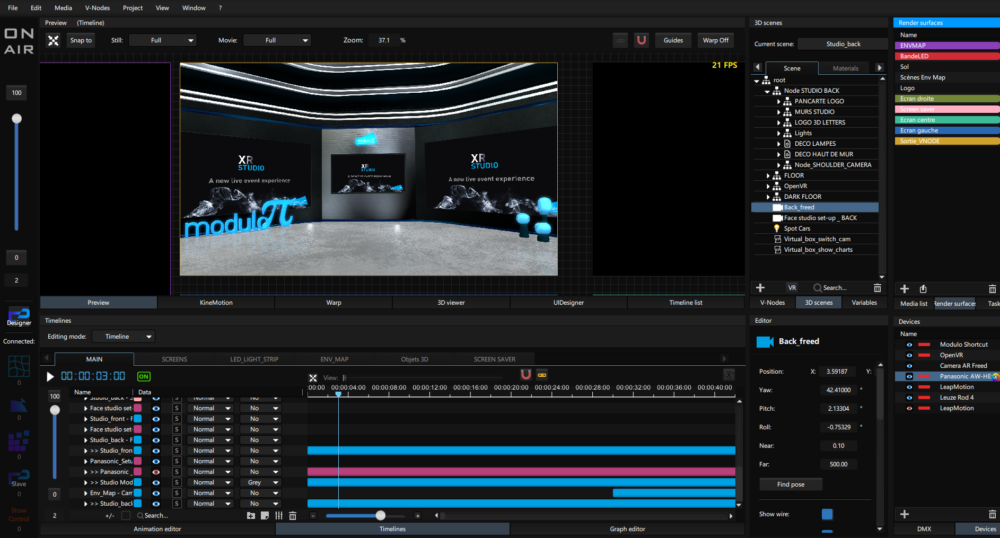 As a fully integrated media server solution, Modulo Kinetic comes with a low learning curve making XR events more widely accessible, and with a significantly simplified workflow.
Yannick Kohn, Founder & CEO of Modulo Pi, explains: "Switching to XR events can be extremely complex and time-consuming when addressed with a suite of separate systems, each one having its own logic and specificities. We believe the approach to XR for corporate events and live performances should remain simple and efficient. As an all-in-one media server platform enhanced with new XR features, Modulo Kinetic proves to be an appropriate solution to produce virtual events, with tools adapted to the mission."
Since last summer, several XR corporate events were successfully produced working with a preview version of the new Modulo Kinetic upgrade.
The official release of Modulo Kinetic's new version with XR capabilities as well as other new features and enhancements is planned by end of the year.
> Application Note: XR studio with green screen
> Application Note: XR studio with LED screen
> Interested in XR events with Modulo Kinetic: Contact Us
Here is a preview of the XR virtual studio possibilities offered by Modulo Kinetic:

Full XR virtual studio demo based on Modulo Kinetic: