Modulo Pi Launches Full-Spectrum Media Server Solutions at ISE
February 2017, Amsterdam – Netherlands
>Modulo Pi – the French market leader of video control and media server solutions – debuts with its established, full-spectrum product range of complete and affordable solutions, on AV's largest international stage, at ISE (Integrated Systems Europe. 7-10 February, 2017, RAI Amsterdam, Netherlands), on Booth K130, Hall 14.
ISE 2017 will mark the official launch of Modulo Pi's latest advanced video solution, Modulo Kinetic – a powerful high end media server solution with a modern interface, timelines, generative content, real time 3D engine and interactivity – and present the latest version of its original video creation software for everyday use, Modulo Player V4.
Modulo Pi products provide the reliability needed by every client, whether it's a ten-minutes event as your most important fashion show of the year, a corporate event, a videomapping experience or a 24/24, 7/7 permanent installation. A super high end, advanced toolbox for real-time 3D video and interactivity, Modulo Kinetic offers non-linear, real-time timelines for editing with key frames. Kinetic enables different video approaches to be merged simply into one coherent environment.
Yannick Kohn, founder and director of Modulo Pi, describes the power principle behind the product: "Modulo Kinetic's real time 3D motor allows to display very realistic content with which the user can interact with. We wanted a pipeline that would allow to integrate technologies used in AAA video game engines. So, we worked in collaboration with Allegorithmic to integrate 3D materials generated by Substance Painter and Substance Designer.
With Modulo Kinetic, it is now possible to load a Substance asset and interact on the parameters in real time."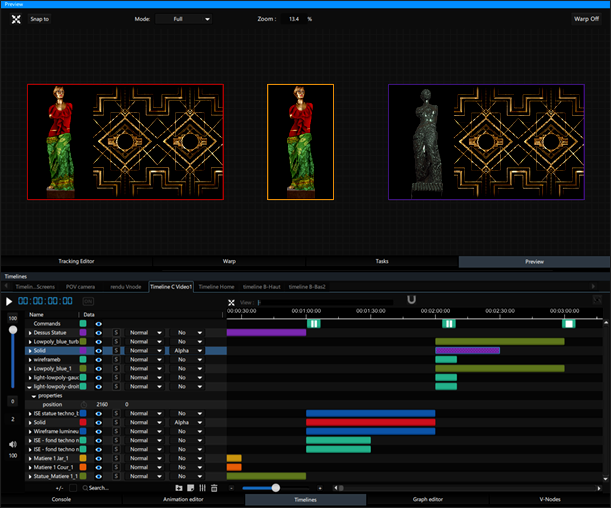 Modulo Kinetic can be used across the complete workflow, including study, simulation, media creation, encoding and playback. Simple to use with its intuitive user interface, projection study and simulation in 3D is simple with interactivity available via easy-to-use nodal programming. As with the Modulo Player, users can also create customised simplified interfaces for smartphone, PC or tablet usage.
Modulo Kinetic also offers 3D projector calibration for the perfect final event execution.
Modulo Kinetic's capabilities were tested in depth for the Michel Polnareff tour, projecting beautifully intricate 3D backdrops onto 40 mechanically tracked cubes, amongst many other scenes.
Modulo Kinetic is equally suited to fixed installation :
LePuy du Fou – France's grand-scale historical theme park famed for its theatrical spectaculars – also snapped up Modulo Kinetic pre-launch to run and control its original new show for 2016, 'Le Dernier Panache'.
The internationally acclaimed theme park boasts eight Modulo Kinetic VNODE 4K supplying eight Christie Boxer 4K projectors to unveil projected scenes for the audience. But this is no ordinary show as the audience is seated on a vast round, tiered, bleacher-style seating platform that rotates through 360°.
The modulo Kinetic receives information of the orientation of the platform via the OSC protocol onto the relevant screen to advance the story and perfectly manage the projected content.
For over five years prior to the launch of Kinetic, the Puy du Fou has also relied upon Modulo Player to drive its demanding projected entertainment and spectaculars – and it does not stand alone. Other major French theme parks – Le Futuroscope and Parc Asterix – as well as international museums also rely on the power and control capabilities of Modulo Player.
The 3D engine of the Modulo Player shares its common basis with the engine of which immediately assured Modulo Kinetic as a stable and efficient solution from its first use. Now in its fourth version, Modulo Player is the company's original easy-to-use video solution, competitively priced for everyday use and designed intuitively with a user-friendly intuitive interface and simple-to-use workflow, for easy comprehension and simplicity.
A low-latency real-time live mixer, Modulo Player boasts easy-to-use show control across devices, tasks and digimap, as well as a unique and innovative x-map feature for advanced 2D warping. Manage and play back projects in real time or take advantage of the advanced features available for play lists. Kohn says of the Modulo Player, "The main advantage of our Modulo Player is that it allows performing simple to complex tasks at an affordable price, making it suitable for a variety of applications. Thanks to its user-friendly interface, operators can easily and quickly get their hand on the solution, while advanced users will find all the tools they can expect from a video solution."
ISE represents the first opportunity to view the ground-breaking and innovative 3D video control solutions from Modulo Pi. To get under the skin of the powerful Modulo full-spectrum collection, or to discuss distribution and trade opportunities, visit Modulo Pi in Hall 14 Booth K130.