Modulo Pi offers a sneak peek at major new features of its media server solutions at ISE 2018- Booth 14-K135 –
January 2018, Paris – France
Exhibiting in Amsterdam at ISE 2018, Modulo Pi will give a sneak preview of the major new features for its media server solutions. Demos of the extensive capabilities of both Modulo Player and Modulo Kinetic, alongside a live-interactive experience, will be showing in booth K135, Hall 14, from February 6th to February 9th
Modulo Pi will give a preview of the upcoming versions of Modulo Player and Modulo Kinetic, the full-spectrum media server solutions designed to create stunning visual experiences within a variety of applications, from everyday shows to the most demanding productions.
Modulo Player, the user-friendly media server ideal for everyday projects, offers an intuitive interface and simple-to-use workflow, for fast and easy set-up and operation. Modulo Player was designed to process media seamlessly and provide the best possible quality, while running on a streamlined hardware configuration.
Thanks to exclusive features such as the unique XMAP for advanced 2D warping, its playlist management, and powerful embedded show control capabilities, Modulo Player is a versatile and cost-effective solution that will fit the needs of a variety of projects.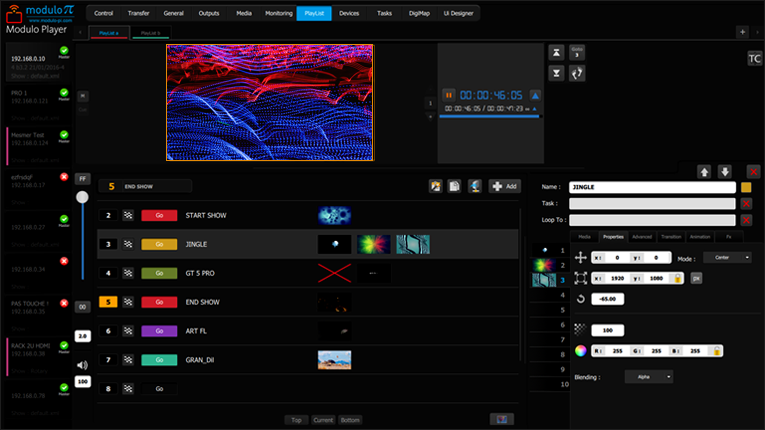 Officially launched at ISE 2017, Modulo Kinetic is the ultimate tool for video playback, real-time 3D, interactivity, and tracking. This super high-end media server offers a state-of-the-art 3D engine for show design and visualization, powerful non-linear real-time compositing, nodal programming, as well as show control and tracking capabilities.
Modulo Kinetic can be used across the complete workflow, including study, simulation, media creation, encoding and playback. Operator-friendly with its intuitive and collaborative user interface, Modulo Kinetic makes projection study and simulation in 3D easy.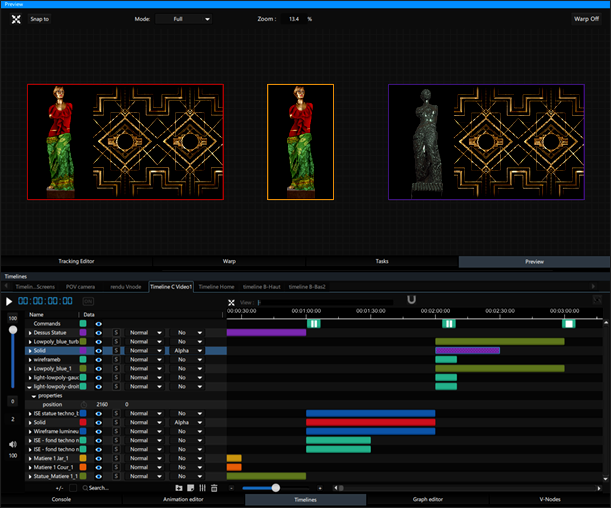 After being successfully used within a wide array of applications, including corporate events, theme parks, museums, and touring, new versions of Modulo Player and Modulo Kinetic will be previewed at ISE 2018.
Both systems will provide unprecedented live management capabilities thanks to a new innovative "all-in-one" approach. The products will also be presented with a new rugged suspended chassis, as well as professional connectivity for improved durability.
Additional features specific to Modulo Kinetic will include 3D tracking, new real-time 3D features, and higher interactivity. Yannick Kohn, Modulo Pi's Founder and CEO, explains: "For a live-interactive show, most of the time you will at least need one tracking system, one media server, and one FX add-on,… our vision is to offer one complete solution: Modulo Kinetic embeds real-time 3D, tracking, and video playback, to make the best out of these extensive capabilities through a unique box and user interface."
After starting a collaboration with Allegorithmic last year for the integration of 3D Substance materials, Modulo Pi goes further in real-time management: "We will introduce our new real-time 3D particles engine at ISE. And for the first time on a tradeshow, we will also demonstrate our optical tracking solution", says Kohn.
These new capabilities of Modulo Kinetic will be highlighted in a unique playful demo experience created in collaboration with Pixel n'Pepper, a creative agency specializing in video scenography, interactivity, and 3D mapping.
Visit Modulo Pi at ISE 2018 in booth K135, hall 14, to find out more.